Celebrations of St. Barbara's Day.
According to the Zagłębie Miedziowe tradition, PeBeKa S.A., as the oldest company of KGHM P.M.S.A., began the inauguration of the St. Barbara's Day celebrations. On November 15, 2019, at the Muza Culture Centre in Lubin, the St. Barbara's Day Academy of Przedsiębiorstwo Budowy Kopalń PeBeKa was held, during which 46 employees was awarded with badges, 28 medals were awarded, 91 mining degrees were awarded, and 16 people received a special distinction for at least 25 years of exemplary mining work - the Honorary Mining Sword.
the St. Barbara's Day Academy of PeBeKa S.A. gathered current and retired employees of the company and many guests: representatives of KGHM Polska Miedź S.A., members of Parliament and senators of the Republic of Poland, delegates of provincial and local government authorities as well as companies and institutions. The ceremony was opened by the speech of the president of the management board of PeBeKa, Mr. Tomasz Rawecki, who thanked the distinguished miners and employees of the company for a year of joint efforts and hard work.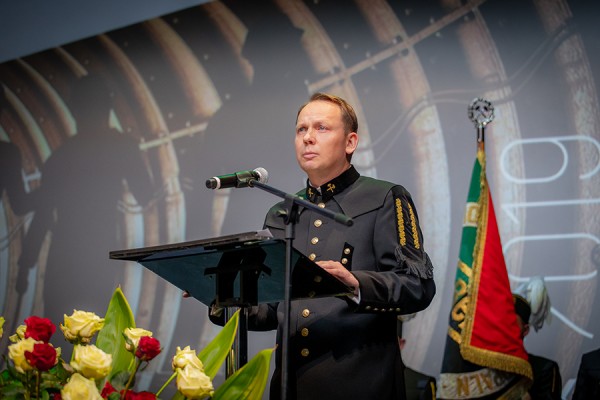 During the academy, a total of 140 gathered people were awarded by the president of PeBeKa, Mr. Tomasz Rawecki, the Deputy Voivode of Lower Silesia, Jarosław Kresa, and representatives of the authorities of KGHM. (In total, 231 people were awarded on the occasion of the St. Barbara's Day.) 10 people got the Gold Medal for Long Service, while 18 employees of PeBeKa were awarded silver and bronze medals. One person was awarded the title of Merit for the Mining of the Republic of Poland, and 4 employees were awarded the KGHM Merit Badge. A total of 41 people received the PeBeKa Distinguished Employee Badge - including 4 people - gold, 4 people - silver and 33 people - bronze. Two mining diplomas - General Mining Director of the 3rd degree and 4 diplomas of Mining Director of the 2nd and 3rd degree, 31 diplomas of Mining Engineer and Honorary Spade Mining were received by 16 people. On the occasion of the St. Barbara's Day, 9 degrees of mining technique and 45 degrees of miner were granted. The long-time employees of PeBeKa were among the invited and distinguished people. This year, the 35th anniversary of mining work was celebrated by 6 miners, 7 miners celebrated 25 years of mining work, and 24 people celebrated 25 years of professional work. In accordance with the PeBeKa tradition, at the end of the academy, 15 mothers, whose at least three sons are employed in mining, were distinguished in thanks for parental effort. A special dedication for them was performed on the stage by a pair of artists: soprano Magdalena Marchewka and tenor Tomasz Maleszewski.