We are the main contractor of mine shafts in the Legnica-Głogów Copper Belt, one of the largest copper ore mining centres in the world. So far we have constructed 30 shafts with the combined length of 30 kilometres.
Many years of hands-on experience allowed us to develop a shaft sinking method based on the freezing of rock mass in practically any geological conditions. Having at its disposal such a unique shaft sinking technology and a rock mass freezing technology, PeBeKa is able to offer the construction of the most complex shaft engineering facilities.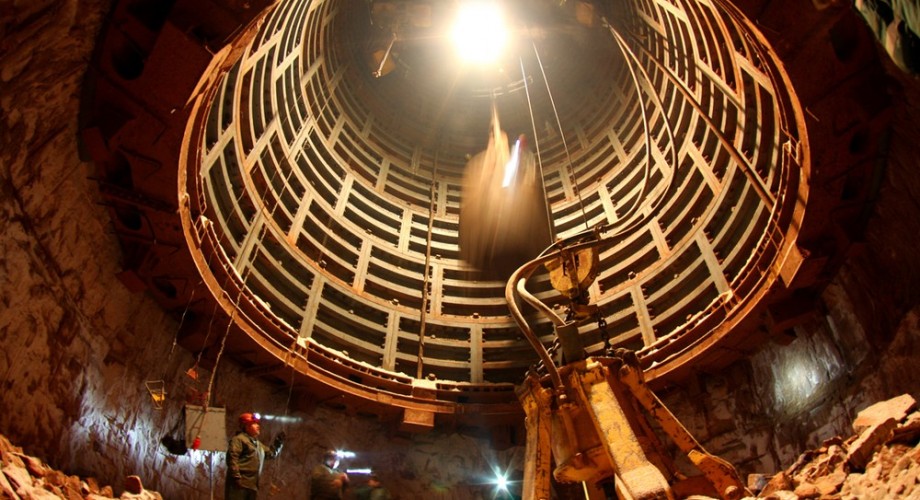 Sinking of shafts
One of our basic tasks is comprehensive construction of mine shafts. As a specialist mining company, we are able to guarantee the timely provision of services in the following fields: the sinking of shafts based on conventional and special methods, including the use of the rock mass freezing technology, advance cementation, cement and chemical injections, and the sinking of fore-shafts and storage reservoirs based on the use of large-diameter holes and rising headings.
At present PeBeKa is in the process of sinking the GG-1 shaft, the 31st shaft in the Legnica-Głogów Copper Belt, which will be one of the deepest of such facilities in Europe (1340 m).
Shaft reconstruction and decommissioning
Based on many years of extensive experience of our experts, we offer comprehensive and completely trouble-free services in the field of shaft reconstruction or decommissioning. As a specialist mine construction enterprise, we perform all decommissioning works with the least possible impact on the local environment.
Rock mass freezing
Shaft sinking based on the rock mass freezing technology is the hallmark of PeBeKa. We have been using this method successfully for over 50 years, continually improving its various aspects while sinking successive shafts for KGHM Polska Miedź S.A. or carrying out infrastructural projects. The method consists in creating a cylindrical freezing wall around a shaft; such a wall counteracts the pressure of the rock mass and prevents the seepage of water into the shaft face.